Professional wedding photojournalism and portraiture with excellence!
Weddings & Engagements | Portraits | Corporate | About Us | Client Comments | Things to Know | Contact Us | Links
_____________________________________________________________________________________________________________
Things to Know
Frequently Asked Questions
If I am interested in booking you for our wedding, what do I do next?
Give us a call at 240-242-5214 or send us an email to schedule a free consultation (an in person meeting). We usually have availabilities during the weekdays after 5:30PM or during weekend mornings. We will show you our portfolio, discuss all the wonderful details of your special day, and design a package to fit your needs and budget. Should you decide to hire us, our wedding / photography contract will be made available to you at the time of the meeting. It's obviously your choice to either fill it out at that time, or at a later date. In order to reserve a date with us for your event, we will need your signed contract and 1/2 deposit. Final payment is due two weeks prior to the event. If your schedule does not permit you to meet with us in person, we can arrange a conference call, email, or mail you the wedding contract.
Do you have gift certificates that friends and family can purchase as a pre-wedding gift?
We sure do through PayPal! Please click on this link to purchase one or send the link out to friends and family as a settle hint to help with your wedding day photography :)
What style of photographs do you take?
On an average, we take approximately 95% photojournalistic (candid shots) and 5% formal (posed shots).
What is the difference between photojournalism and traditional formal photography?
Photojournalism is telling a story with photos. In wedding photography, photojournalism has come to be known as documentary photos of wedding-day events as they happen, with no involvement, direction or control from the photographer. We will capture a moment as it happens, without orchestrating it, getting in the way, or interrupting the natural process of the wedding. Our goal is to have the least amount of influence possible on your wedding day. It is not our day; it is yours…..yet, still creating the best photos possible is our intention.
Traditional wedding photography can be recognized as formal photographs where people are posed and looking toward the camera "say cheese"! Traditional is characterized by lots of direction, involvement and control from the photographer.
How many photographers will be at my wedding?
2 photographers will be present! Craig and Kathy personally photograph all weddings together. This has advantages over a single photographer. Kathy will capture the bridal preparations while Craig meets with the guys. By having a male and female photographer, you will get the view of your wedding from two different perspectives. We both work as discretely as possible to capture all the candid moments that an individual photographer would not necessarily see. During the times of formally posed photographs, Kathy will set up the pose while Craig captures the moment.
How many photographs will I receive on my photo CD/DVD?
For a normal 8 hour wedding, we approximately take anywhere between 600 - 900 images. You will receive all the photographs on your photo CD/DVD (digital negatives) in a JPEG format so that you may bring them anywhere you choose for printing.
When will my photographs be ready and what do I expect after my event?
The very same day of your event, we make three copies of your digitally mastered photographs; one copy will be stored on a backup external hard drive and stored in a fireproof safe. For the next fourteen days, your photographs will be edited, carefully reviewed by us, and added to our website for you and your family to view. Two weeks after your event takes place, your photo DVD/ CD (digital negatives) will be complete and ready for shipment!
Do you charge for travel?
There is no travel charge if your event is in our Montgomery and Frederick County servicing area. Any locations outside that area will have an additional charge per mile.
What type of equipment does your company use?
We use top of the line, state-of-the-art technology. As certified professionals, we will use whatever camera is most appropriate for what is being photographed. Do not worry; we have plenty of backup equipment! That is one of the main benefits to hiring an experienced professional photographer. Our state-of-the-art digital technology allows us to offer you more convenient proofing / viewing and editing methods. Our current inventory includes the newest Nikon digital cameras.
Can I view examples of your work?
Yes, you may view examples online by visiting our online portfolio at www.pardiniphotography.com. In addition, if you live close to the Germantown area, we can visit you with our sample albums for viewing in the comfort of your own home or at a local Starbucks, etc. in the area.
Do you have referrals or testimonials?
How many do you want?
You can view some of our latest testimonials on line at http://www.pardiniphotography.com/comments or we can be happy to send you some.
Why are your prices less than other photographers?
Most photographers sub-contract their work out like editing, website work, CD/DVD processing, promotional materials, etc., where we do everything ourselves…..saving us money so we can give the savings to you. From the very beginning, our mission has been very clear....we are not in the business, focusing on business; we are in the people business, focusing on photography....we have fun with what we do!
What are the advantages of hiring a professional?
We will be timely - arriving at your wedding promptly, and getting the results to you on time. We have just the right equipment for photographing your wedding. Having attended many weddings, we will be at ease at your wedding, and we are used to working with individuals, couples, and groups to make the formal photography go smoothly. When you think about the cost of photography, remember that our fee is only part of your investment: You, your parents, your extended family and your friends will be investing time with the photographer during your wedding. Don't waste time on your wedding day with a photographer who won't produce results you love!
What if your camera breaks?
Every piece of equipment has at least one back-up
Do I get to keep the negatives?
Yes! Every package includes a photo CD/DVD (digital negatives)
What is DVD Slideshow (Digital Photo Album)?
This is the absolute best way to view your wedding day photographs, as it is, a true documentary! Imagine watching a DVD movie of all your wedding photographs from start to finish with background music from your wedding day! You can have your family and friends over, sit in front of the TV and re-live your special moments! The DVD slideshow is completely complementary with all of our packages as a special gift from us to you!
Why is Wedding Photography so Expensive?
There are several unseen areas that the photographers do for your wedding day photography. A lot of this is overlooked by the clients and also is factored into the overall package cost. This will hopefully shed some light on what you are paying for besides the actually finished product and picture taking…
Below are some bullet points that capture what a wedding photographer may do for you. Not all photographers may do this…I can only go off of what we, at Pardini Photography and Weddings do, so you have the best day possible and the photographs are picture perfect!
It is not as easy as some may think… this just covers what we do in dealing with the clients and not the business part of things, such as: bookkeeping, marketing, and website maintenance, tax prep, etc., etc.
Getting To Know You (2 hours):
Respond to initial inquire (phone call or email): 5-10 minutes
Emails or phone calls prior to consultation meeting: 10-15 minutes
Consultation meeting: 1.5 hours
Follow-up emails after consultation meeting: 5-10 minutes
Engagement Photography Session (15 hours):
Engagement photography session: 2 hours
Uploading photographs to computer and making redounded backups: 30 minutes
Editing engagement photographs: 8 hours (2 hours per day for 4 days)
Post editing photographs: renumbering, burning to disk and making picturesque disk labels and covers: 1 hour
Designing webpage to feature photographs in a slideshow: 30 minutes
Creating the DVD slideshow documentary and burning to disk: 2 hours
Meeting with the clients to deliver the finished engagement package or mailing out: 1 hour
Wedding Prep (1 hour):
1-2 follow-up conference calls with the clients to cover last minute details: 45 minutes
Pre wedding day: checking all equipment, charging batteries, inventory and packing everything up: 30 minutes
The Wedding (42 hours):
Arrive at starting destination 1 hour early to prepare and take location photographs: 1 hour
Wedding day photographs: 8 hours
Stay past ending contract time to ensure we capture special ending moments: 1-2 hours
Uploading photographs to computer and making redounded backups: 30 minutes
Editing wedding photographs: 24 hours (2 hours per day for 12 days)
Post editing photographs: renumbering, burning to disk and making picturesque disk labels and covers: 1 hour
Designing webpage to feature photographs in a slideshow: 30 minutes
Creating the DVD slideshow documentary and burning to disk: 4 hours
If prints and albums orders add an additional: 4-6 hours
Meeting with the clients to deliver the finished engagement package or mailing out: 1 hour
Why do you only take digital photographs?
We like to refer to digital photography as "digitally mastered photographs." As skilled Photoshop craftsman, we can alter, darken, lighten, add or take away contrast, enhance, and almost do any changes you may want to your photographs. Some people are skeptical about digital enhanced photography. Just look at it this way, the computer is a digital darkroom and it takes just as much skill as it would in the dark with film, and the finished product looks a lot better. One second after taking an image, our camera will display the image on a 2.5 inch LCD screen located on the back of the camera. We can instantly double check lighting, composition and posing! This is one of the biggest advantages to digital we have experienced yet! Keep in mind that most people are using standard digital cameras that are very limited in the functions that are offered and priced somewhere around the $300 - $1000.00 range. Not all digital cameras are alike. We use several digital, professional SLR cameras that have more functions then a professional film camera and are priced from $6,000+, not including any accessories and lenses.
The ability to see the image right away. This is our favorite reason for using digital. It gives us a level of comfort because we can see if the lighting, expression, exposure, etc. are correct right away rather than wait to see the film back from the lab in a few days.


The ability to change the ISO (or the equivalent of film speed) quickly. This allows us to go in and out of an array of lighting situations without having to suddenly change film to match the light levels from place to place at a wedding.


A virtually unlimited number of photographs can be captured at an event. This in its self frees us from thinking "we can only shoot 10, 12 or whatever number of rolls of film that is in the client's budget".


The ability to make black and white and sepia toned photographs from the digital images. When we shoot digital, every photograph can become a black and white and/or sepia image. Parents may want an image in color; the couple may want to have it in black and white.


Freedom to experiment. This is a corollary to reason one. We will often shoot images that we would not even try with film because we will be able to erase it if it doesn't work and modify it because I'll be seeing the results immediately.

Visual results of digital enhancement

Original


Converted to 1/2 black & white and 1/2 color


Added oval boarder for soft focus


Original


Converted to
black and white with flowers in color


Background in blur to keep the focal point on the couple
| | |
| --- | --- |
| Original | Videographer removed and brightness and contrast added |
| Original | Converted to black & white with a black faded border |
| Original | Sepia filter |
| Original | Leash was removed |
| Original | Foreground and Background in blur to keep the focal point on the couple |
| Original | Yellow flowers enhancement and contrast added |
What is a megapixel???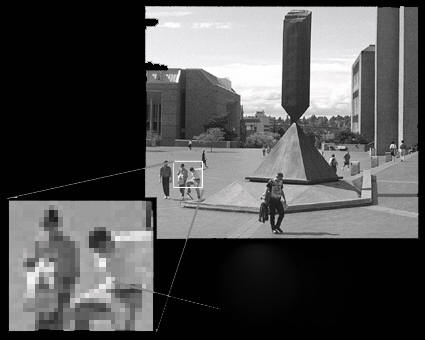 Digital cameras capture images as pixels. Simply put, a megapixel is equal to one million pixels (picture elements). Digital images are made up of thousands of these tiny, tile-like picture elements. The more pixels, the higher the image resolution.

Resolution relates primarily to print size and the amount of detail an image has when viewed on a computer monitor. The number of megapixels has little to do with actual camera quality or the quality of a photo it is capable of producing. Factors such as camera sensor and the optical quality of a lens play much more important roles in these areas.
Suggested number of megapixels for highest quality prints:
| | |
| --- | --- |
| Clear maximum print size | Megapixels needed |
| 4 x 6" | 2 megapixels |
| 5 x 7" | 3 megapixels |
| 8 x 10" | 5 megapixels |
| 11 x 14" | 6 megapixels |
| 16 x 20" | 8 megapixels |
| 20 x 30" Poster | 11 megapixels |
History of Digital Photography
During the 1960s, NASA converted from using analog to digital signals with their space probes to map the surface of the moon (sending digital images back to earth). Computer technology was also advancing at this time and NASA used computers to enhance the images that the space probes were sending.

Texas Instruments patented a film-less electronic camera in 1972, the first to do so. In 1981, Sony released the Sony Mavica electronic still camera, the camera was the first commercial electronic camera. Images were recorded onto a mini disc and then put into a video reader that was connected to a television monitor or color printer. However, the early Mavica cannot be considered a true digital camera even though it started the digital camera revolution. It was a video camera that took video freeze-frames.
The first digital cameras for the consumer-level, market that worked with a home computer via a serial cable were the Apple QuickTake 100 camera (February 17, 1994), the Kodak DC40 camera (March 28, 1995), the Casio QV-11 (with LCD monitor, late 1995), and Sony's Cyber-Shot Digital Still Camera (1996).
However, Kodak entered into an aggressive co-marketing campaign to promote the DC40 and to help introduce the idea of digital photography to the public. Kinko's and Microsoft both collaborated with Kodak to create digital image-making software workstations which allowed customers to produce Photo CD Discs and photographs, and add digital images to documents. IBM collaborated with Kodak in making an internet-based network image exchange. Hewlett-Packard was the first company to make color inkjet printers that complemented the new digital camera images.
The marketing worked and today digital cameras are everywhere and film is becoming obsolete.
The best way to look at film verses digital.....film photography is equal to an audio tape and or VCR. Digital photography is equal to an audio CD and or video DVD!
_______________________________________________________________________________________
Copyright Information
(click to enlarge)